Annual Business Leadership Awards Event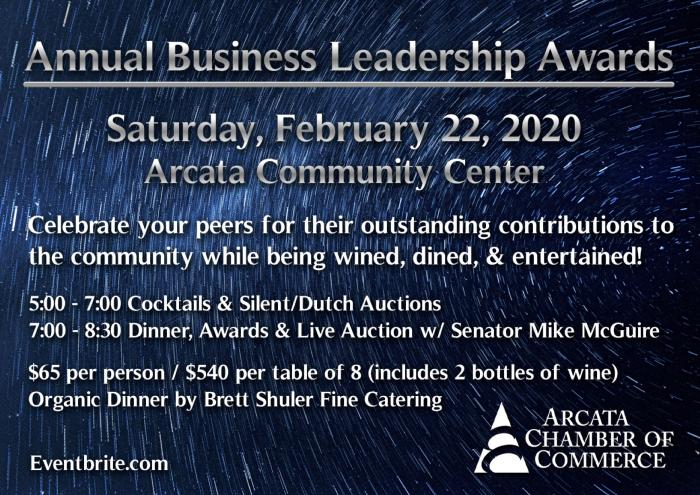 The Arcata Chamber Business Leadership Awards Event sees the congregation of more local businesses in one room at one time than any other time of the year.
This is a great opportunity for the diverse membership to come together, see old friends and meet new ones while honoring each other's achievements in a festive atmosphere. Business awards (determined by their peers) will be announced during dinner.
The event is catered by Brett Shuler Fine Catering and Cassaro's Catering and drinks by Bar Nomadic. You will experience entertainment and dynamic live & silent auctions that help raise funds for the organization to continue to work for the good of the business community.
Members are invited to Sponsor the event and experience heightened exposure. Members are also invited to decorate a table in a way that shows off their business to the other guests who sit at it.
2019 Award Winners:
Nonprofit of the Year - Friends of the Dunes
New Chamber Member of the Year - Plaza Shoe Shop
Hospitality and Tourism of the Year - Sequoia Park Zoo Foundation
Green Business of the Year - Alchemy Distillery
Beautification of the Year - Brio Baking Inc.
Small Business of the Year - Frankie's NY Bagels
Business Leader of the Year (decided by past winners of this award) - Aaron Ostrom of Pacific Outfitters
Business of the Year (decided by the City of Arcata's Economic Development Committee & the City Council) - Eco-Groovy Deals