Vending 101: New Vendor Workshop
Friday, May 3, 2019 - 9:00am to 4:00pm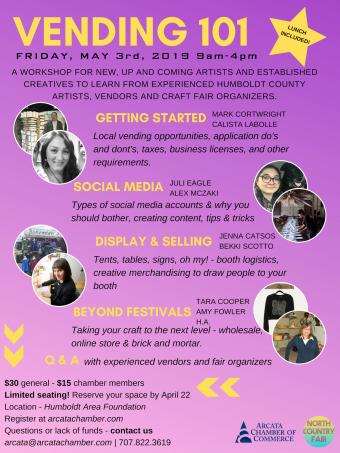 363 Indianola Road, Bayside, California 95524
A workshop for up and coming as well as established artists and makers to learn how to get started in vending.
The Arcata Chamber and North Country Fair present a full day on Vending 101!
Reserve your seat now by going to this link.
Are you a maker, artist, or crafter wanting to learn how to set up shop? Join us to learn from local business owners, artists and festival organizers to learn everything you need to know to get started.
Topics include:
Applications, Logistics, Licenses and more with Mark Cortright & Calista Lobolle
Social Media 101 with Alex McZaki & Juli Eagle
Display & Selling with Jenna Catsos & Bekki Scotto
Beyond Festivals: online and brick and mortar selling with h.a Pearson, Tara Cooper & Amy Fowler
Each session will have time for Q & A with presenters and we'll have a closing panel as well with more artists and organizers.
Catered lunch is included! Limited seating - registration is required. No one will be turned away for lack of funds. If funds are a barrier for participation, please email us at director@northcou...