Surfing the Shifting Tides of the Local Economy: Strategies to Thrive
Thursday, October 18, 2018 - 9:00am to 10:15am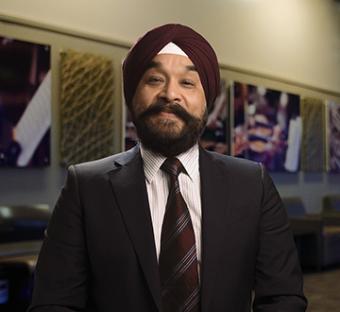 363 Indianola Road, Bayside CA 95524
w/ Manohar Singh, Dean of the College of Professional Studies at HSU
What to expect?
A guided conversation to:
1. Understand the dynamics of a changing local, small-town economy and the community collective responses
2. Construct a framework to understand the impact of these changes on your business model
3. Design a principles/framework to respond to these changes
4. Create a dynamic strategic action plan to make your business more resilient and growth oriented
If you want to participate by emailing in advance, by October 10:
1. Two most pressing challenges your business anticipates
2. Two recommendations you will make to local policy makers/authorities to help you
Thank you Ramone's Bakery & Cafe for treats/coffee!
Facilitator Bio
Dr. Singh has been the Dean of the College of Professional Studies since July 2017. He has a strong background in multidisciplinary scholarly research ranging from finance, macroeconomics, and management strategy to corporate social responsibility and gender equity in corporate America. Dr. Singh has published over 40 manuscripts in leading peer-reviewed journals in finance, marketing, and economics and he is the recipient of the College of Business Researcher of the Year Award presented by the University of Nevada (Reno).
Prior to his appointment at HSU, Dr. Singh served as the Head of the Division of Social Sciences and Business at Penn State University (Abington). He previously served as the Vice Chair, and Chair of the Faculty Senate at the Penn State Great Valley School of Graduate Professional Studies and Interim Chair of the Department of Finance at Long Island University. His non-academic professional career includes serving as a senior executive with the Government of India as a member of the Indian Civil Services.
A strong proponent of diversity in higher education, in addition to serving on the Diversity Action Council at Penn State University, Dr. Singh has led several initiatives to recruit faculty and students with diverse backgrounds. Dr. Singh is dedicated and persistent in his focus on student success, as well as his commitment to diversity and sustainability. Dr. Singh hopes to contribute to the preparation of our students to become transformational leaders in promoting socially responsible citizenship.
As a teacher, Dr. Singh has designed and delivered a wide variety of graduate, honors, and undergraduate traditional and case-based courses in all major areas of finance, management strategy, and applied economics. Dr. Singh seeks to impart a global perspective to students' learning experience and has created study abroad courses and he has taught abroad in India, Australia, and Singapore. For his efforts, Dr. Singh was honored with the Teaching Excellence Award at the Penn State Great Valley School of Graduate Professional Studies. Recently, Dr. Singh led the successful launch of several new program initiatives including a B.Sc. in Accounting and a B.Sc. in Rehabilitation and Human Services, as well as the establishment of an accelerated 4+1 MBA program.
Dr. Singh received a Bachelor's degree in Economics (Honors) from Punjab University - India, and a Master's degree in Economics from the University of Waterloo - Ontario, Canada, before completing a Doctorate in Finance at Southern Illinois University (Carbondale).