November First Thursday Virtual Mixer
Thursday, November 4, 2021 - 5:30pm to 7:30pm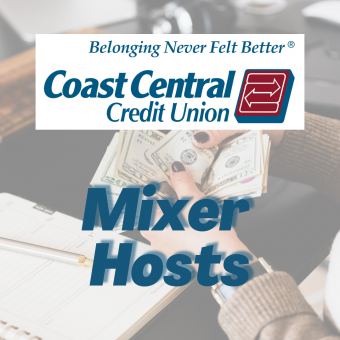 Join us for a Virtual Mixer hosted by Coast Central Credit Union on Thursday, November 4, from 5:30 p.m. - 7:30 p.m.
As always, we will hear an update from our host, share member announcements, raffle prizes, and have an overall good time!
Be sure to purchase your raffle tickets to enter in a chance to win amazing prizes from local businesses! Please buy them BEFORE 3 P.M. on the event date.
For online purchase, choose from the options below:
Click here to purchase 6 tickets for $5.50
Click here to purchase 12 tickets for $10.50
Click here to purchase a Reach (30 tickets) for $22
Click here to purchase two Reaches (60 tickets) for $42
We encourage you to buy an item or gift certificate from a local business (or your own business) to donate to the mixer raffle. This is a great way to showcase your business or those of your peers in the community.
You can bring your donation to the Chamber office or we can help you arrange a meeting with the lucky winner, who may become a future client or customer! Click here to donate. Feel free to contact us with quesitons or to learn more by clicking here. Thank you!