March First Thursday Virtual Mixer-Business Leadership Awards Celebration
Thursday, March 4, 2021 - 5:30pm to 7:00pm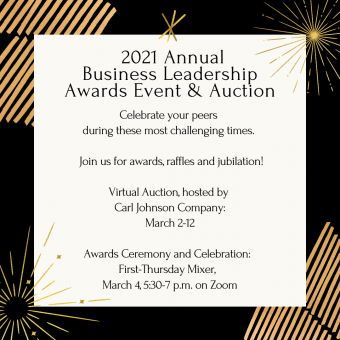 Our online silent auciton is live now. Click here to view & bid on the wonderful items donated by our generous local community. There are many amazing offerings in this auction.
This mixer is dedicated to celebrating the winners of the 2021 Business Leadership Awards.
View this year's nominees here.
Award winners will be announced & honored during the mixer.
In addition to the awards, attendees can look forward to entertainment & jubilation. Also, a special guest appearance by Senator Mike McGuire.
Thank you to Wildberries Marketplace for creating specialty pre-order meals for anyone wanting to enoy them before, during or after the Awards Event. A portion of meal proceeds go to support the Chamber. Meal orders are now closed.
Online silent auction will be from March 2nd - March 12, hosted by local autioneers, the Carl Johnson Co.
There will be a more extensive than usual raffle this month with plenty of wonderful prizes donated by local businesses.
To purchase raffle tickets please choose from the options below:
Click here to purchase 6 tickets for $5.50
Click here to purchase 12 tickets for $10.50
Click here to purchase a Reach (30 tickets) for $22
Click here to purchase two Reaches (60 tickets) for $42
We are accepting donations for the raffle. We encourage you to buy an item or gift certificate from a local business (or your own business) to donate. The Awards Auction is a great way to showcase your business...Carl Johnson online auctions have a national audience!
Click here to donate.