January First Thursday Virtual Mixer
Thursday, January 7, 2021 - 5:30pm to 7:00pm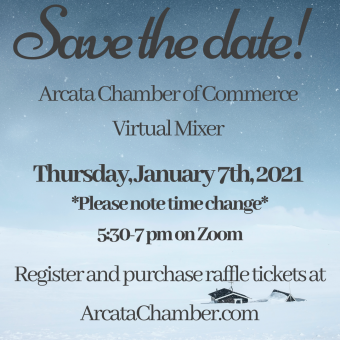 **Please note that our mixers will now begin at 5:30 p.m.**
It is Mixer time again!
Stay connected with your business community, share your business updates, meet new people & join us for a good time! Raffle and door prizes, member announcements and more.
We will have a chance to hear from and meet some of our new Arcata City council members. Also, we will take some time to discuss this year's Arcata Chamber's Business Leadership Awards and walk through the nomination process together.
To attend the mixer please pre-register by clicking this Zoom link.
You need not be present at the mixer to win a prize!
To purchase raffle tickets please choose from the options below:
Click here to purchase 6 tickets for $5.50
Click here to purchase 12 tickets for $10.50
Click here to purchase a Reach (30 tickets) for $22
Click here to purchase two Reaches (60 tickets) for $42
We encourage you to buy an item or gift certificate from a local business (or your own business) and donate it to the mixer raffle! Donate by filling out your name and item in this link.