Fall Business Forum - Your Business & the Web
Thursday, October 15, 2020 - 4:30pm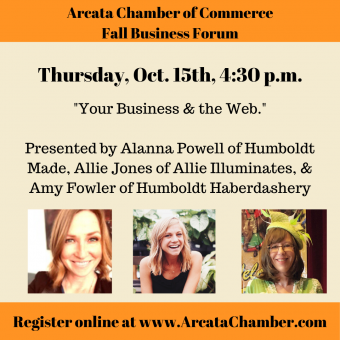 Presented by Alanna Powell of Humboldt Made, Allie Jones of Allie Illuminates & Amy Fowler of Humboldt Haberdashery.
This workshop will help you examine your current web presence, including an audit of your current site, ecommerce tips, Search Engine Optimization (SEO), Google my business and more.
The three presenters will combine their individual strengths and experiences to provide a dynamic and well rounded conversation on the topics.
Please bring your questions; there will be time to work through individual questions and sites.
FREE and open to all, not just Chamber members.
Pre-registration required.
Thanks for support from