December First Thursday In-Person Mixer
Thursday, December 2, 2021 - 5:30pm to 7:30pm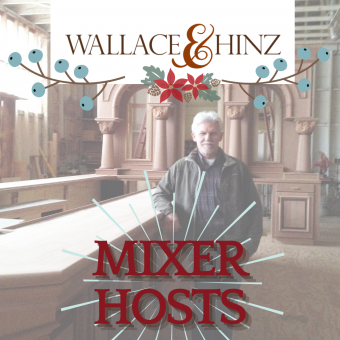 Join us for an in-person Mixer at Wallace & Hinz on Thursday, December 2, from 5:30 p.m.-7:30 p.m. Current COVID safety guidelines will be followed. We will update our site with any changes and other event details.
Raffle tickets can now be purchased at the event.
If you wish to pre-purchase raffle tickets, please do so BEFORE 3 P.M. on the event date.
For online purchase, choose from the options below:
Click here to purchase 6 tickets for $5.50
Click here to purchase 12 tickets for $10.50
Click here to purchase a Reach (30 tickets) for $22
Click here to purchase two Reaches (60 tickets) for $42
We encourage you to buy an item or gift certificate from a local business (or your own business) to donate. It is a great way to showcase your business or those of your peers in the community.
You can bring your donation to the event or we'll bring it for you, should you decide not to attend. If you'd like to donate without attending, please contact us by clicking here. Thank you!