A Conversation with HSU & CR
Tuesday, June 9, 2020 - 9:00am to 10:00am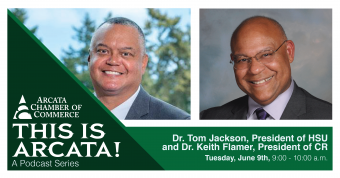 Join this live Zoom webinar to hear updates and be part of the conversation with Dr. Tom Jackson President of HSU and Dr. Keith Flamer President of CR.
Presentations by both presidents followed by a moderated Q&A.
Have questions in advance? Email them to Arcata@ArcataChamber.com.
Event pre-registration required. Click here.
**Flyer designed and created by Old Growth Graphics**