Chamber Chats Featuring Jennifer Hart of Cal-Ore Life Flight
Thursday, June 18, 2020 - 12:00pm to 12:30pm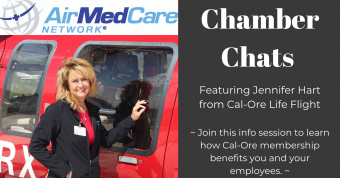 Chamber Chats is a virtual series aimed at and featuring local business people who are showing up and learning to pivot in today's environment. This is a great opportunity to stay in touch with your business community and share ideas, strength, and inspiration across industries.
Presentation from the featured speaker, followed by Q&A and discussion.
The featured speaker is Jennifer Hart, Membership Manager for Cal-Ore Life Flight. Jennifer will discuss the importance of employers providing Emergency Air Ambulance as an added insurance benefit for employees. Help your employees have financial piece of mind knowing their membership to Cal-Ore will cover themselves and family members in a medical emergency. This also supports our local Emergency Air Ambulance Providers, who are on the front lines during this pandemic.
Pre-Registration required for this Zoom call.
Open to all not just Chamber members.
After registering, you will receive a confirmation email containing information about joining the meeting. Please email Arcata@ArcataChamber.com if you did not receive confirmation.
We look forward to seeing you there!