Chamber Chats Featuring Dr. Roberta Luskin-Hawk, St. Joes
Wednesday, July 1, 2020 - 12:00pm to 12:30pm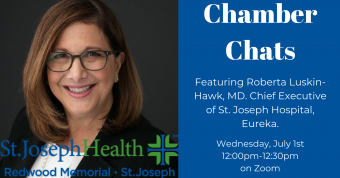 Chamber Chats is a virtual series aimed at and featuring local business people who are showing up and learning to pivot in today's environment. This is a great opportunity to stay in touch with your business community and share ideas, strength, and inspiration across industries.
Presentation from the featured speaker, followed by Q&A and discussion.
The featured speaker will be Roberta Luskin-Hawk, MD, Cheif Executive of St. Joseph Hospital, Eureka.
Pre-Registration required for this Zoom call.
Open to all not just Chamber members.
After registering, you will receive a confirmation email containing information about joining the meeting. Please email Arcata@ArcataCham...(link sends e-mail) if you did not receive confirmation.
We look forward to seeing you there!