Chamber Chats Featuring Bill Prescott, Lost Coast Communications Inc.
Thursday, July 30, 2020 - 12:00pm to 12:30pm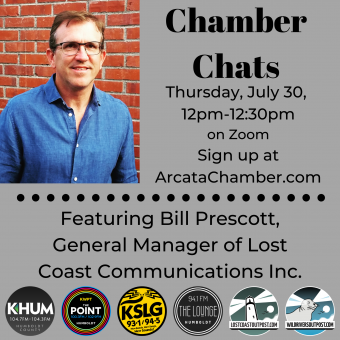 Chamber Chats is a virtual series aimed at and featuring local business people who are showing up and learning to pivot in today's environment. This is a great opportunity to stay in touch with your business community and share ideas, strength, and inspiration across industries.
The featured speaker is Bill Prescott, General Manager of Lost Coast Communications Inc (LCCI).
LCCI runs four live, local radio stations, KHUM, KWPT "The Point", KSLG "KSlug" and KLGE "The Lounge". LCCI also includes two hyper-local real time news websites; The Lost Coast Outpost and The Wild Rivers Outpost.
Bill will discuss the Changing Landscape of Local Media & Advertising. With time for community discussion and Q&A.
Pre-Registration required for this Zoom call.
Open to all not just Chamber members.
After registering, you will receive a confirmation email containing information about joining the meeting. Please email Arcata@ArcataChamber.com if you did not receive confirmation.
We look forward to seeing you there!