Chamber Chats Featuring Aaron Gottschalk from Wildberries
Thursday, July 16, 2020 - 12:00pm to 12:30pm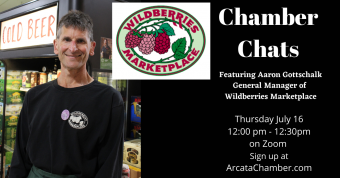 Chamber Chats is a virtual series aimed at and featuring local business people who are showing up and learning to pivot in today's environment. This is a great opportunity to stay in touch with your business community and share ideas, strength, and inspiration across industries.
Presentation from the featured speaker, followed by Q&A and discussion.
The featured speaker is Aaron Gottschalk, General Manager of Wildberries Marketplace.
"There has been nothing quite like Covid of course when it comes to running a supermarket. However the spirit of the Team Members overrides the nature of the pandemic most of the time, and we have manifested a lot of joy and positivity despite the dire circumstances we are all facing." -Aaron Gottschalk
Pre-Registration required for this Zoom call.
Open to all not just Chamber members.
After registering, you will receive a confirmation email containing information about joining the meeting. Please email Arcata@ArcataChamber.com if you did not receive confirmation.
We look forward to seeing you there!