Chamber Chat Featuring Carla Hayes of Bubbles & Amy Bohner of Alchemy Distillery
Tuesday, May 19, 2020 - 12:00pm to 12:40pm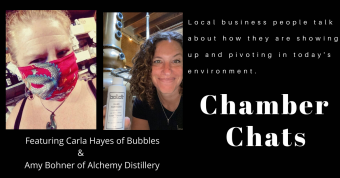 Chamber Chats is a new series aimed at and featuring local business people who are showing up and learning to pivot in today's environment. This is a great opportunity to stay in touch with your business community and share ideas, strength, and inspiration across industries.
Featured speakers are Amy Bohner, co-owner of Alchemy Distillery and Carla Hayes, owner of Bubbles. During this 40 minute Zoom call they will share their experiences running their businesses during the COVID-19 shelter in place order. Question and answer and conversation will also take place.
Pre-Registrartion required.
Open to all not just Chamber members.
After registering, you will receive a confirmation email containing information about joining the meeting. Please email Arcata@ArcataChamber.com if you did not receive confirmation.
We look forward to seeing you there!