Blood Drive with the Arcata Chamber
Wednesday, October 27, 2021 - 4:00pm to 7:00pm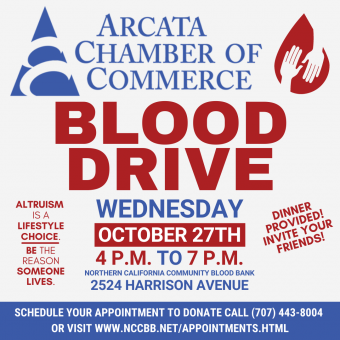 2524 Harrison Avenue, Eureka, CA 95501
Join us for tacos and donate blood at the Blood Bank!
We are asking members, supporters and friends to come to our sponsored blood drive event and have dinner with us, provided by the Northern California Community Blood Bank, on October 27, from 4pm-7pm.
Appointments are encouraged for this event. Please click here to schedule appointments.
All donors must bring their I.D. or donor card at the time of their donation. Masks are required.
If you cannot make it on October 27, you can still donate at one of their mobile units in the community. Click here for the schedule.
Make sure you mention you are donating for Arcata Chamber of Commerce - Group Code: ACHM (GIVE CODE WHEN YOU REGISTER)