April First Thursday Mixer with Zero Waste Humboldt
Thursday, April 7, 2022 - 5:30pm to 7:30pm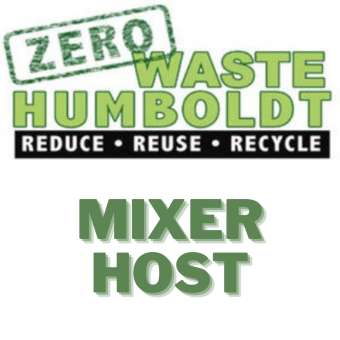 1675 Union St. Eureka, CA 95501
Annalisa.ArcataChamber@gmail.com
We are excited to announce another in-person Mixer! Please join us with the host, Zero Waste Humboldt, on April 7th, 2022. Synapsis, a performing artsits colective, will be co-hosting and the mixer will be at their new studio, 1675 Union St. Eureka. Additional co-hosts will be Los Bagels, Redwood Curtain Brewery & Humboldt Cider Co.
Expect food offerings from Los Bagels, beer & wine provided by the hosts, zero waste facts and resources, as well as a special performance!
COVID safety protocols will be followed, including plenty of spacing, ventilation, sanitizer, outdoor options, masking, and safe-capacity support.
Please consider donating to this in-person event to make the evening wonderfully festive! You can bring your donation to the event or drop it off at our office. Call or email for availability 707.822.3619, Annalisa.ArcataCh...(link sends e-mail).