The 4th of July Jubilee on the Plaza
Thursday, July 4, 2019 - 10:00am to 5:00pm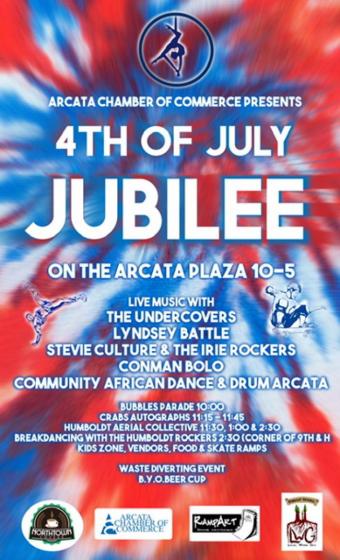 Come celebrate 4th of July with us (and many other wonderful musical acts)!
Enjoy musical performances from The Undercovers, Lyndsey Battle, Stevie Culture & the Irie Rockers, Conman Bolo, and Community African Dance & Drum Arcata!
This festival is the Arcata Chamber's civic gift to the community. It kicks off with a Bubbles Parade (meet at the store, Bubbles) at 10:00 a.m. From there enjoy a full day of music, a premiere skateboarding experience for all ages, as well as a super duper kids zone with performances by the Humboldt Aerial Collective, breakdancing with the Humboldt Rockers, face painting, bean bag toss, craft booths, Crabs Baseball autographs, food, beer/wine and more!
Photo Credit: Mark Larson & The North Coast Journal