Ambassadors
The Arcata Chamber Ambassadors are the Chamber's most visible committee. They conduct member visits, serve as greeters at Chamber events and help to coordinate business grand openings and ribbon-cutting ceremonies. As representatives of the Chamber, Ambassadors are often called upon to answer questions and be the intermediary between the public and the Chamber. In addition to their contribution to the Chamber and their prominence in the community, Ambassadors often cultivate their own personal contacts while completing their duties.
Committee meetings are held the second Thursday of each month from 11 am-12 pm at the Chamber office. Lunch is provided.
RSVP is required by EOB the Tuesday prior to Arcata@ArcataChamber.com
---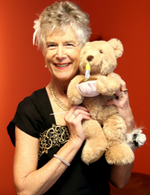 Carol Clymo (She/Her)
The Benbow Historic Inn
(707) 498-7281
carolclymo@yahoo.com
Ambassador Since 2014
After graduating from Humboldt State University, I worked in the hospitality field starting in 1976 and retired in early 2000, with 26 years being employed by the Red Lion Hotel in the Sales and Catering departments. Since then I volunteer my time as an ambassador of 3 chambers, church secretary, leader of bible studies, and selling See's Candy to benefit local cancer patients.
---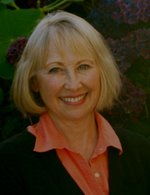 Sharon K. Ferrett (She/Her)
The Lady Anne Bed and Breakfast Inn
(707) 822-2797
sharonferrett@gmail.com
Ambassador Since 2014
Sharon Ferrett possesses over thirty- five years of experience in higher education as a community college and university professor, dean, and academic advisor. She is also a management consultant, newspaper columnist, and small business owner who brings a "real world" perspective to her presentations and books—Peak Performance in School and Beyond, 12th edition (McGraw-Hill, 2022), Positive Attitudes at Work (Irwin, 1994), Strategies: Getting and Keeping the Job You Want, second edition (McGraw-Hill, 2003), Connections: Study Skills for College and Career Success (Irwin 1996). She currently teaches in the OLLI Program at Cal Poly, Humboldt.
Dr. Ferrett is a popular speaker in such areas as leadership, communication, student, job and life success, motivation, positive attitude, and writing.
Sharon Ferrett earned her B.A. and M.A. in communication from Western Michigan University and her Ph.D. in administration and organizational communication from Michigan State University. She also did graduate work at the University of Michigan, the University of Edinburgh, and the University of London. Sharon and her husband, Sam, former mayor of Arcata, own a Victorian bed and breakfast in that beautiful college town.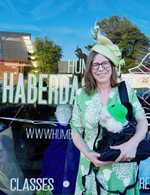 Amy Fowler (She/Her)
Humboldt Haberdashery
(707) 840-6025
humboldthaberdashery@yahoo.com
Ambassador Since 2015
Amy Fowler is the owner of Humboldt Haberdashery, a hat shop and vintage sewing supply business in Arcata. She is a milliner and an international millinery instructor with British Millinery Association and Hat Academy and a contributing writer for HaTalk eMagazine. Amy is also an advisor with the North Coast Small Business Development Center, specializing in eCommerce and working with artists to develop their art into businesses.
---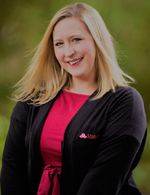 Kayla Mahoney (She/Her)
Heather Vina State Farm
(707) 839-3267
kayla.mahoney.ybmo@statefarm.com
Ambassador Since 2018
Working as an insurance agent is Kayla's way of giving back to a community she loves. She has a knack for getting to know people and finding common ground in order to help them get the options that suit their needs. In her spare time, Kayla enjoys going on hikes with her husband, getting lost in a good book, enjoying local events, and traveling. She also treasures the times when she can give back to her community through volunteer work and working with the Arcata Chamber of Commerce. She moved here in 2006 to attend Humboldt State University. She fell in love with the community instantly and after graduating in 2010 with her degree in Communication, made Humboldt her forever home. While she is not a Humboldt native she loves being a part of this tight-knit community.
---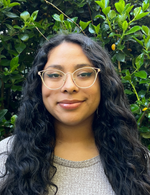 Carolina Gonzalez (She/Her)
Dark Staffing Solutions
(707) 243-3275
carolina@darkstaffingsolutions.com
Ambassador Since 2022
I'm a proud First Gen Latina. I graduated in 2020 with a bachelor's in Business Administration; Marketing. I'm currently using my knowledge to help gather and share information about Cannabis work opportunities. Cannabis is a huge part of my life and has helped many people in the community. I want to help bring awareness and advocate for all my plant lovers and mi communidad.
---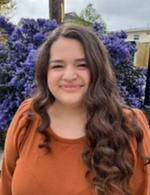 Charlie Dockery (She/Her)
Dark Staffing Solutions
(707) 630-5090
charlie@darkstaffingsolutions.com
Ambassador Since 2022
My professional experience ranges from office administration to managing retail teams. I'm currently expanding my skillset in the cannabis sphere at Dark Staffing Solutions by connecting people to potential job opportunities in the industry. I consider myself a cannabis advocate and am fortunate to have found a position that has allowed me to combine that passion with my professional career. Swing by our Arcata office to connect sometime!
---
---