Meet The Staff
​Anisa Escobedo (She, Ella)
Executive Director
Office: 707.897.6004 Ext 102
Cell: 951.398.9474
Anisa@ArcataChamber.com
In October 2022, Anisa Escobedo was appointed Executive Director of the Arcata Chamber of Commerce. Anisa is responsible for managing all staff and operations at the Chamber and Welcome Center, a diverse, nonpolitical member organization serving Arcata and Humboldt County, and serving as a catalyst to encourage business entrepreneurship, collaboration, and innovation while fostering a sense of community among its members. As the spokesperson for the Chamber, Anisa speaks on behalf of the organization.
Anisa founded Escobedo Design in Southern California, a full-service digital marketing agency. She was named one of Corona's best and brightest under 40 in 2017. Anisa has worked with socially-conscious businesses and mission-driven organizations to develop meaningful relationships and communicate effectively.
In addition to serving on many local non-profit boards, advisory committees, and statewide organizations, Anisa is passionate about giving back to the community. A member of Kiwanis International since 2016, Anisa works to improve the lives of children around the world.
---
---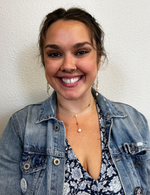 Gloria Baker (She/Her)
Operations Manager
Office: 707.897.6004 Ext 102
Gloria@ArcataChamber.com
Gloria Baker was hired in November 2022 as the Arcata Chamber of Commerce's Operations Manager. Her responsibilities include managing all day-to-day operations, engaging current and prospective members, and assisting with events. She is the right-hand person of the Executive Director. The Hounds of Humboldt and Glow Up Designs have been Gloria's main passions outside of being an incredible community networker. Aside from helping others achieve their personal goals, she is passionate about running a successful business and, of course, dogs.